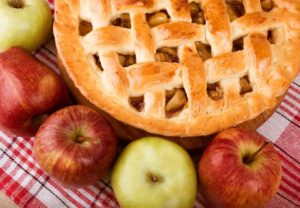 Fall is always a wonderful time of the year, more so because of the abundance of produce that comes to our tables during this season. This is also the season for apples of all sorts, making it possible for you to start using apples in food.
This delicious and versatile fruit can be used in a whole lot of ways from baked goods to salads to sauces. Another wonderful way to enjoy these delightful fruits is in the form of apple cider.
Apples are most often used in pies and cakes because their sweetness is perfectly suited to these desserts. In fact, all people who love to bake have their own favorite recipes that have apples as the main ingredient. It is therefore quite common for them to serve an apple flan, torte or crumble for dessert.
These fruits play another important role in baking. Apple puree can be used as a substitute for at least half the butter or oil that you would use in order to bake a cake or a dessert. You can't replace all the fat but the use of apple puree adds plenty of moisture and fiber to your baked dish, making it a far healthier option than before. In addition, it also means that you can reduce the amount of sugar you use in the recipe.
Apples add a welcome crunch and sweetness to the salads they are used in. You'll have to remember to dress the salad quickly in order to prevent the fruit from turning dark with oxidization. While most people immediately think of desserts and salads when it comes to using these fruit, it is also possible to use them in savory dishes.
Roast apples make the perfect accompaniment to a dish of roast pork. In addition, apples make the perfect addition to the stuffing of a roast turkey because of their unique taste that combines tartness and sweetness.
You could also enjoy apple cider during the fall. This delicious non-alcoholic beverage is a unique and refreshing drink that is drunk throughout the fall but is mostly served on the Halloween, Thanksgiving, and Christmas holidays. It has a limited shelf life and can also be served mulled with a variety of spices.
Delicious taste apart, there is one important advantage of using apples in food. This fruit is immensely healthy and it is a rich source of vitamins and anti-oxidants in addition to fiber while being extremely low in calories. These fruits are a good source of nutrients and vitamins like riboflavin and pyridoxine among others. There is evidence that a diet rich in apples can improve brain function and also keep Alzheimer's Disease at bay. There is definitely some truth to the adage 'An Apple a Day Keeps the Doctor Away'.
Make sure that you collect as many recipes that use apples in food so that you can enjoy this versatile fruit in many different ways. You will really enjoy cooking and eating them!