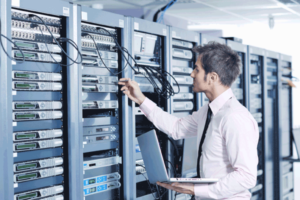 If you are planning on building your first blog, it is vital that you choose the right website hosting service that is suitable for the type of blog you want.
Getting the right web hosting for your website is a crucial step in the progress of your own blog. It should be your top priority as a blogger who is expected to constantly publish post on a daily basis.
To help you decide which hosting your need, here is a breakdown of each web hosting options, its characteristics, and its pros and cons.
Shared Hosting
For websites that are not resource-heavy, shared hosting tends to work best. This means the website should not receive a huge traffic. If you are still starting out and do not have any plans on getting a heavy traffic flow, this option will suit you. But if you are building a website and plan on having a huge traffic, you can still start with shared hosting and upgrade your subscription later on.
Pros:
Great starter package for anybody who plans on building a website

Very affordable

Unlimited bandwidth and space when resource usage is low

Great for low-trafficked sites that does not contain any dynamic or heavy content.
Cons:
Risk of down-time or website suspension when resource usage is high

You share the server space with other sites which can impact your speed

This is not meant for sites with high traffic
Dedicated Hosting
With shared hosting, you share a server with numerous websites. With dedicated hosting, there is only one server entirely allocated to you. This means that the server's resources are yours 100%.
Blogs intended for high traffic should use dedicated servers because it does not usually encounter issues regarding bandwidth limits, disc storage and other technical issues. This is also a good server for people who are looking into creating an online store or any eCommerce site with blogs.
Pros:
You can customize your hardware

The entire server is all to yourself

You can customize your security and operating system

You do not have to worry about resources
Cons:
VPS (Virtual Private Server) Hosting
If shared hosting lacks the space but dedicated hosting is also too much for what your need, you can choose VPS. VPS hosting allocates a portion all to yourself inside the server. If you know that you are going to be using a lot of resources and do not want to risk affecting other websites negatively (including yours), then VPS should be your choice.
Think of VPS this way. You are currently living in a hotel but you only utilize the room that you paid for. This means you are sharing one server but there is a specifically allocated space for you. You can visit hosting sites to determine how much you will most likely pay for a VPS hosting.
Pros:
You have your own private unit in the server

Less expensive hosting compared to dedicated servers

There is a lesser chance that your site will be suspended

No worries of resources

Very unlikely to slow down your site or experience downtime

You have your own dedicated mail server, firewall and other security control

You have your own CPU and RAM resources
Cons:
This is more expensive than shared hosting
As a beginner, what do you need?
Technically, if you are still starting out, you should fully consider signing up for the most inexpensive provider, but do not take one that is not trusted. If you plan on a blog that is intended to receive traffic, you should focus your attention on VPS or dedicated. But you should also consider your skills as a blogger.
Advanced users can easily gain traffic and should lean towards VPS or dedicated. But if you are still testing things out, it is best that you get shared hosting as a starter plan. You should also determine the number of websites hosted on a shared server as this will impact your speed and downtime. Sometimes, the most inexpensive options are cheap for a reason.